Assessment
Selecting talents that really fit
Identifying motivation and values through cultural fit analysis
Determine the core values that describe the character of the company, department or specific location. If the idea of the talent matches the company's values, you are most likely to win a suitable candidate. As a result, you will achieve higher productivity, satisfaction and loyalty to the company.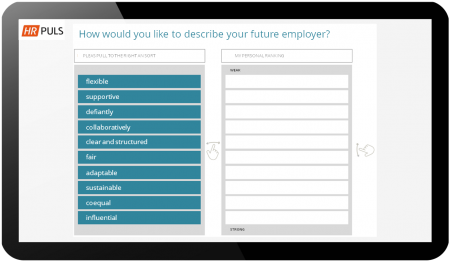 Identifying development opportunities through potential diagnostics
The combination of self-assessment, performance tests, image recognition tests and simulation of occupational situations measures skills and abilities. The coverage of the talent with the success-relevant core requirements for the respective occupational field is uncovered.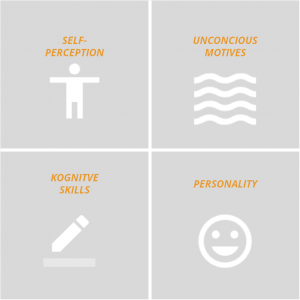 Recognizing conscious and unconscious motives through psychometry
The tests for measuring the potential of talents meet the psychometric quality criteria of independence, accuracy and reliability.

Results are provided in self-explanatory and quickly understandable views by means of complex algorithms, evolutionary processes and computer linguistics.
Feature Overview
Security
& Configuration
Controlling
& Automation
Partizipation
& Communication
Sellection Procedure
& Diagnostic
sms_failed
Multilingualism
The language selection enables a smooth application process
question_answer
Dialogs
Users can communicate easily and every activity is traceable
cloud
Online document management
Centrally maintain, view and compare test results
touch_app
One-Click Technology
Decide at the touch of a button which skills are to be tested
assignment_turned_in
Qualification tests
Make profound and reliable personnel decisions with a minimum of effort
account_balance
GDPR Conformity
Secure and easy compliance with the currently applicable data protection regulations
assignment_ind
Integrity tests
For conflict prevention, identify with which talents conflicts may arise
loop
Coordination processes
Involve those entitled to legitimacy in an automated process
spa
Cultural Fit
Determine values and corporate cultural competence
done_all
Task management
Completing tasks on time by planning with regard for the workload
assignment
Personnel selection
Assess talents and compare them with the requirements profile and other talents
access_alarm
Reminder function
Notification helps to avoid missed deadlines
sentiment_satisfied_alt
Employer Branding
Increase employer attractiveness through modern and smooth processes
lock
Access rights regulation
A simple authorisation system ensures data protection and user-friendliness
grade
Gamification
Keep motivation high in the application process through gamification
bookmark
Potential diagnostics
Make precise statements about the 4 levels of personality and assign the right talents to the appropriate jobs
settings
Adapt processes
Each department can decide which skills to test
trending_up
Real time analysis
View individual key figures in real time and make the right decisions
chrome_reader_mode
Selection procedure
Interviews and qualification tests can be conducted and administered online
important_devices
Mobile capability
Retrieve information and edit tasks from any device
accessibility_new
Self-Service
Recruiters, departments, HR and talents act and inform themselves independently
bookmark
Management with tags
All profiles have several keywords (tags) to ease searching and matching
assignment
Interview guidelines
Making the right decisions through standardised processes
extension
Matching Score
Identifying the fit between the competence profile and the talent