In 3 Steps to your Arctive Sourcing Strategy
The most important in brief
Tips for professional Active Sourcing
Active Sourcing, i.e. the independent, proactive search, approach and recruitment of suitable candidates, is not a new invention. HR managers have always been actively approaching university graduates with outstanding achievements, every stand at job fairs is actively trying to attract applicants and managers are recruited primarily by headhunters. Today, there are significantly more opportunities for finding specialists at every stage of their careers. If you compare professionally conducted active sourcing with other recruiting measures, the former is very effective, more cost-effective and targeted.


5 Advantages of Active Sourcing

++ the time between job posting and staffing (Time-to-Hire) can be significantly reduced
++ rapid response to staff shortages
+ trained personnel can preselect candidates
+ talent retention, who may never have applied on their own
++ an early commitment of the candidate to the company reduces the probability of a misplacement

id="goals" class="h2" style="text-align: center;">1 Planning Active Sourcing
Make decisions and develop an active sourcing strategy
Before using Active Sourcing as a recruiting method, it should be clear what the company expects from it. The reason for choosing this recruiting method can be global or specific:
global event: decline in birth rates, shortage of skilled workers, globalization, digitization, economic situation, etc.
specific reason: acute or future vacancies, fluctuation, personnel increase, etc.

B Know expectations
The reason implies the desired effects through Active Sourcing. Proactive staffing enables active personnel planning and the prevention of personnel bottlenecks. A successful contact with an applicant increases the attractiveness and loyalty to the company before the talent has applied.


C Performance measures/figures
Time-to-Hire: Duration between vacancy and staffing. The average time-to-hire lasts 56.5 days.
effort: number of addressed candidates per cast. On average, 24 suitable candidates must be approached to fill 1 vacancy. There are major differences depending on the industry (IT: 43, Automotive: 14, Retail: 6).


D Responsible in the planning phase
HR/Human Resources Department, Recruiter/Sourcer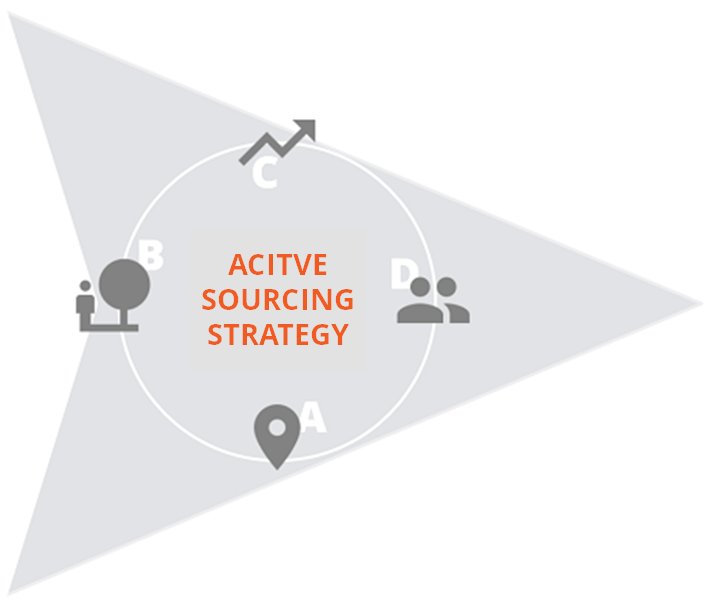 2 Active Sourcing candidate search
2A Determine target groups
The mass of all potential candidates can be divided into active and passive candidates. Active candidates are characterised by the fact that they are easily accessible and respond quickly. The market of liabilities is more difficult to reach, as these candidates are only subliminally looking for change but not actively looking for a job. Active Sourcing addresses both markets.
2B Use suitable channels for suitable candidates
Suitable candidates can be found on different platforms depending on the industry and career level. Advantages and disadvantages of available channels are shown below.


Responsible in the candidate search phase
Recruiters/Sourcers


Social Networks
Social networks do not necessarily have a career focus. There is often a lack of search options that meet the needs of active sourcing. Facebook is used by many for leisure rather than career purposes. A direct contact is not necessarily desired. Searching in specialist forums is one method to reach specialists from a wide variety of fields. Jobs on Google+ and Twitter are particularly attractive for candidates from the IT and social media industry.
Career Networks
A solid cross-section of all industries is represented in career networks. They are primarily used for professional networking. At first glance, business networks are practical platforms for quick and easy contact, because the profiles contain personal data and career-relevant information. However, this is also the problem - everyone is able to recruit on this basis. The quality of the results suffers as a result. However, if the numerous, easily accessible, individual information of a person is also used to arouse real interest in the address, then a difference and promising sourcing, also called profile mining, arises.
CV databases
CV databases (e.g. Monster, Stepstone, Absolventa) are particularly suitable for the recruitment of career starters, graduates, traineees, etc. CV databases provide companies with integrated employee branding and recruiting solutions. Thus company profiles can be attractively designed and advertise for the company (e.g. through testimonials from employees). The candidate can see the initial information more quickly than with an independent Internet search. The response time can thus be reduced.
Recruiting software
If the majority of your employees are to be actively recruited, various active sourcing software is available. These are designed for the special requirements of recruiters/sourcers. They combine useful functions: Candidate profiles, contact options, reminder functions, internal data exports (e.g. CVs). This allows candidates to stay on the radar for whom there is no suitable position or who are not yet fully trained.
Successful Active Sourcing...
...requires organizational skills, communication talent and a sophisticated strategy. Only about 18% of companies in Germany have established a standardized process for establishing contacts in active sourcing. Apart from the pure search on meanwhile overcrowded career sites, the combined use of many channels (e.g. supplementing CVs with profile data) and a targeted, personalised approach promise the greatest success.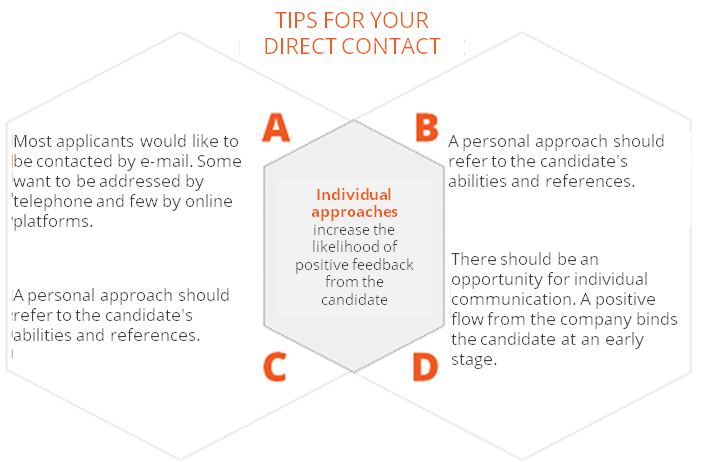 3 Selection of suitable candidates in the active sourcing process
Bind positive and negative candidates
Wait for feedback
About seven days may pass before the contacted candidate reacts. A reminder can then be sent once. A good response rate is about 50 %.


Successfully actively recruited candidates are invited
A further dialogue for open questions can be started. Once all questions have been clarified, an invitation to an interview should follow. If the candidate is not hired in this process, he or she can be held in a sourcing file. If the company has made a positive impression on the candidate, may have a suitable position waiting.


Managers
Recruiter, Department, Human Resources Department/HR