Learning
Training measures that have an impact
Simple controlling of trainings
Thanks to a clear authorisation system, HR managers, executives and trainers have access to the administration and evaluation of trainings. This makes it easy for them to manage and administer training. The central storage of information enables lean processes, reduces communication channels and saves time for administrative tasks.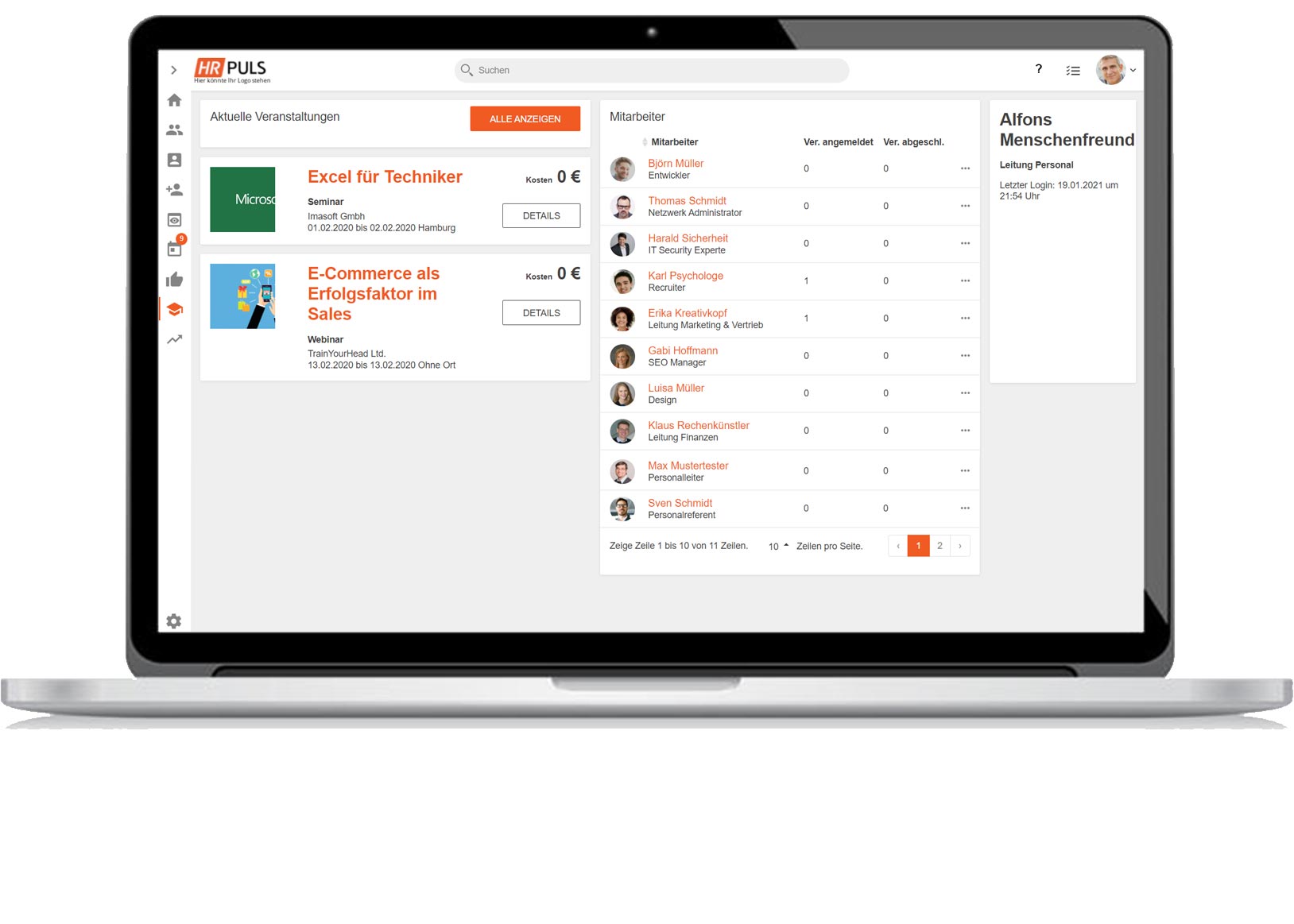 Effectiveness testing of training (360°)
The expectations and experiences of participants, trainers and clients can be recorded by providing participants, trainers and clients with a link to take part in a pulse check. Satisfaction, wishes and suggestions for improvement can be entered quickly and easily via a smartphone or PC.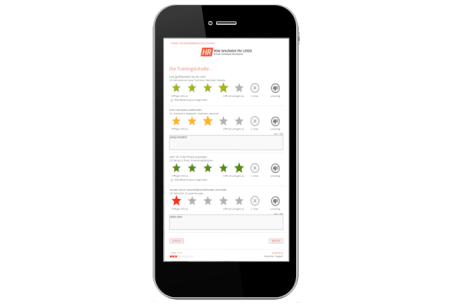 Messung der Erwartung, Erfahrung und Transferleistung in Echtzeit
Participants and clients (e.g. managers) receive an invitation for a pulse survey immediately before the training, which determines the expectations of the training. The questions can be answered via a smartphone. After the training, the participants and trainers answer questions about their satisfaction with the trainer, the training content and the course of the training. Additional ideas and wishes can be expressed via the evaluation. In order to determine the transfer success of what has been learned for everyday work, a third pulse survey is sent to all participants and clients three months after the training.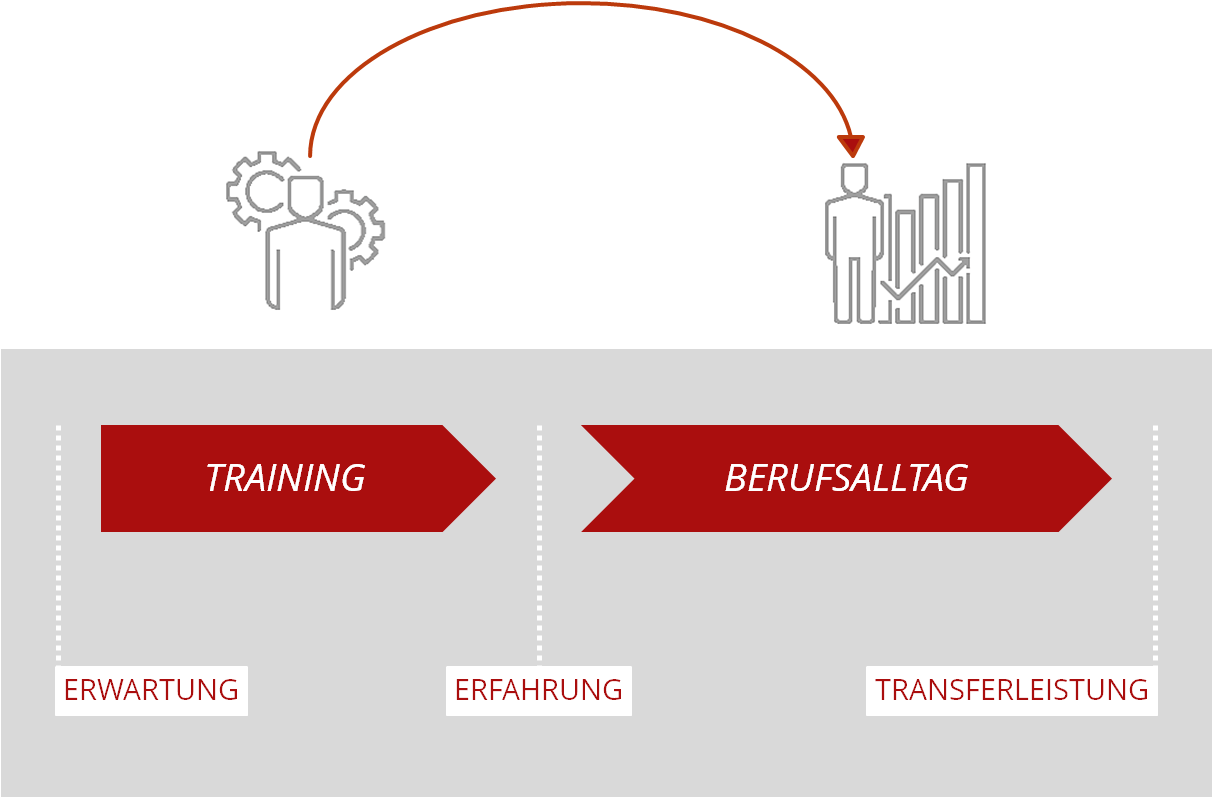 Functions at a glance
Security
& Configuration
account_balance
DSGVO compliance
Secure and easy compliance with the currently applicable data protection regulations
trending_up
Real-time analysis
Reports and KPI's are always available due to the constant updating of data
important_devices
Mobile capability
High participation rates due to mobile capability, via PC, tablet, smartphone
cloud
Online document management
Manage certificates and attestations online, digitally and centrally
lock
Accessibility maintenance
A user-friendly authorisation system ensures data protection and user-friendliness
Controlling
library_books
Benchmarks
Identify and present internal and external comparisons to results
playlist_add_check
Campaign pool
Themes are turnkey, validated and ready to use
sentiment_satisfied_alt
Employer Branding
Increase employer attractiveness through modern and smooth processes
show_chart
History
Visualise developments, trends and successes over time
border_color
Qualitative outcome analysis
Simple results analysis via systematic tagging and clustering of terms
Automation & Optimisation
grade
Gamification
Get a high participation rate with short, mobile surveys
wb_incandescent
idea management
Submit ideas for improvement independently and 'like'
those of other employees.
swap_calls
Mailings at the touch of a button
Create, manage and send customised mail templates
track_changes
Efficacy testing
Different perspectives and collection times allow for effectiveness testing
line_weight
Satisfaction measurement
Survey satisfaction with training among managers, participants and trainers
Participation
access_alarm
Reminder function
Reminders for participants to rate the training attended
sms_failed
Multilingualism
Language selection enables smooth onboarding
build
Employee participation
Uncovering successes and problem areas in training by participants
touch_app
One-Click Technology
Ease of implementation increases participation rates
accessibility_new
Self-Service
Trainers, HR, managers and participants manage their appointments and content independently
DO WE KEEP OUR PROMISE?
What our customers say...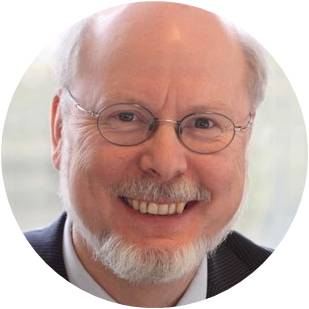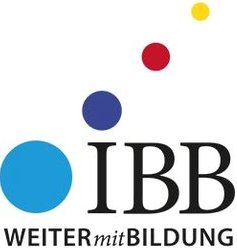 "Our organisation is growing rapidly and structured development is a prerequisite for our lasting business success. The HRpuls module supports us optimally, as the satisfaction of all participants can be queried and evaluated in real time. Participants can also complete the survey while on the move - a really popular feature in the age of smartphones."
Clemens Arnold-Hoffmann
Board member, IBB Institut für Berufliche Bildung AG