WHAT WE WANT TO ACHIEVE
HR provides the best service for the organization
What we do
We develop smart
HR software
As part of HR transformation, HR professionals are increasingly growing into the role of helping your organizations align for the future. To do this, you need to understand the business strategy and have talent on board at the right time, with the right skills and values, to successfully execute the strategy. In this important role, there is no time for administrative tasks. That's why HRpuls' software takes the pressure off HR professionals and managers, freeing them up to focus on the issues that really matter - the people in the company!
Who we are
Lovers
We love HR and tech, that's why we are passionate about improving our HR software and service every day
.
Pilot
We take responsibility in every project for a smooth introduction and use of the software
Protector
We protect our customers' HR data from tampering and loss as if it were our own
Listener
We listen to our customers and love feedback
.
As a driver for continuous improvement
Team player
We treat people with respect, loyalty and integrity as the basis for a trusting working relationship
What we have achieved
EvaluateHR metrics in real time and plan forecast-based scenarios
Employee interviews, feedback, pulse checks & surveys, risk assessment, training administration
Digital personnel file, preparatory payroll, absences, time recording, onboarding & exit
Applicant management, active sourcing, testing, workforce planning, applicant interviewing
Pulse Checks, Applicant Survey 2013
Pulse surveys with idea and project management (3-phase model) and optimization for smartphones
Mission: Measure and improve satisfaction and engagement in real time
OUR TEAM
We bring together people with real passion and expertise for HR. We are united by the same values, we differ in competencies, culture and mindset. Together, we develop innovative software solutions and services to help organizations digitize HR processes. We also often involve our customers directly in the development process to test and improve new ideas in practice.
OUR DEVELOPERS
Create high-quality source code and database architectures with passion. Their ambition is to develop solutions that are a bit more accurate, simpler and self-explanatory. This creates HR software that is fun to use.
OUR PRODUCT MANAGERS
take care of content issues. With expertise on methodology and their scientific theoretical knowledge of human experience & behavior, they strive for maximum expressiveness and user-friendliness in our suites
our customer service representatives
Excel at empathy, judgment and critical thinking skills. Their mission is to exceed customer expectations and strengthen long-term relationships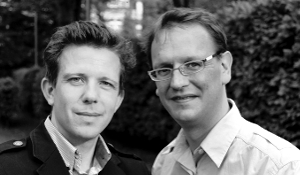 As founders of HRpuls, Oliver (CEO) and Henning (CTO)
each embody a passion for HR and software. In 2012, they founded HRpuls together.
OLIVER
Dedicates himself passionately to the topics of recruiting, retention and development of talent. In dialog with business leaders and HR managers, he continuously develops HRpuls products according to customer needs. This results in field-tested products that provide maximum benefit. Previously, as a management consultant, he supported companies worldwide in the areas of strategy, organizational development and merger & acquisitions.
HENNING
As technical manager, he is responsible for all technical issues. He quickly finds technical solutions for individual requirements. Always questioning and supportive, he is a valued contact both internally and externally. Shortly after the turn of the millennium, he began doing software and website development for a wide variety of clients. His expertise lies particularly in the areas of software engineering, web applications, IT security and databases.
You want a job in which you have a meaningful task with many development opportunities? Then become part of our team!