Training Evaluation & Management
Training measures that have an impact
Simple controlling of trainings
Thanks to a clear authorisation system, HR managers, executives and trainers have access to the administration and evaluation of trainings. This makes it easy for them to manage and administer training. The central storage of information enables lean processes, reduces communication channels and saves time for administrative tasks.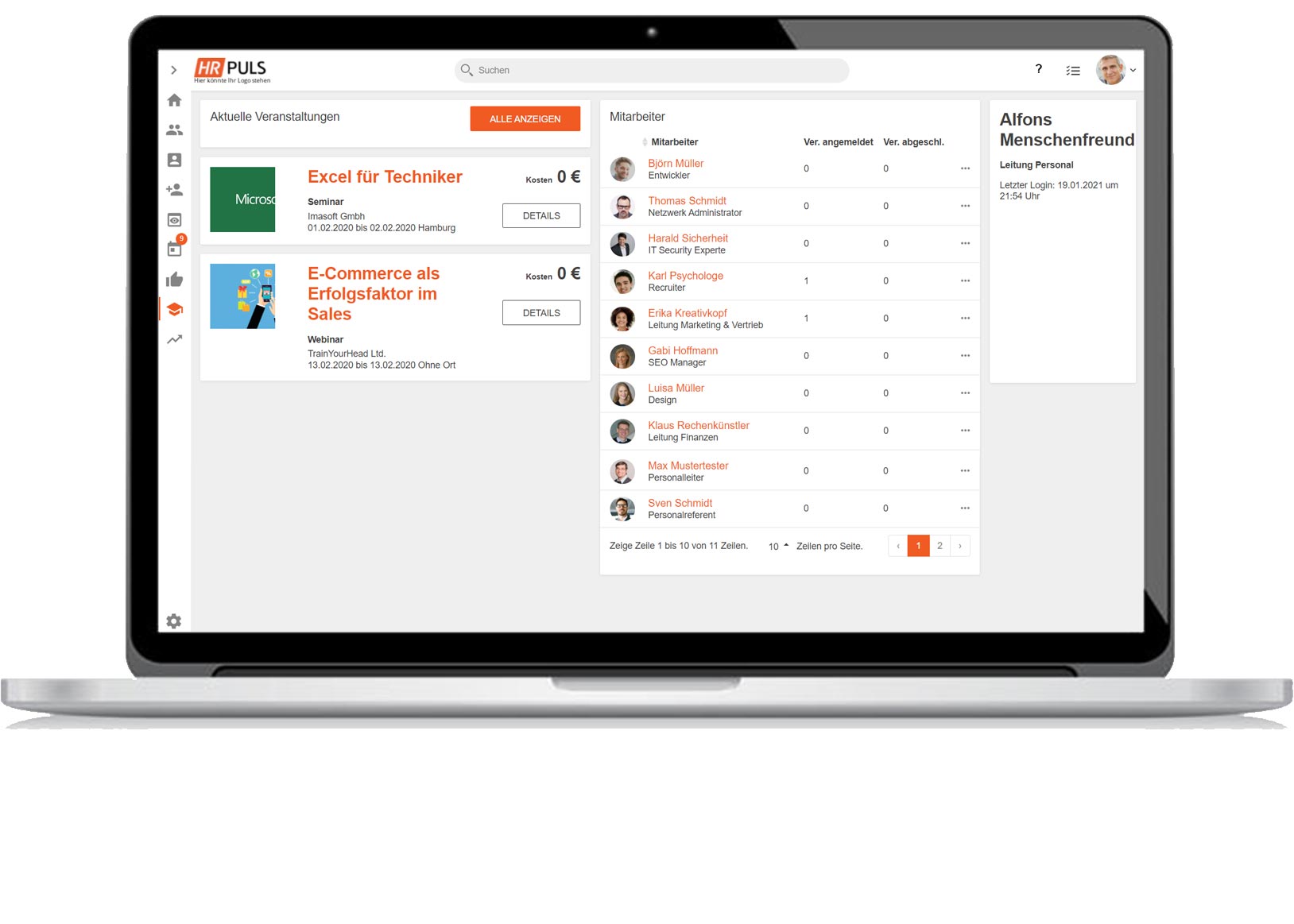 Effectiveness testing of training (360°)
The expectations and experiences of participants, trainers and clients can be recorded by providing participants, trainers and clients with a link to take part in a pulse check. Satisfaction, wishes and suggestions for improvement can be entered quickly and easily via a smartphone or PC.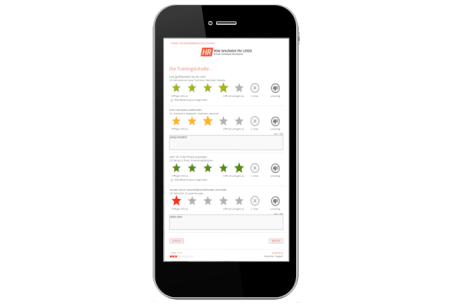 Messung der Erwartung, Erfahrung und Transferleistung in Echtzeit
Participants and clients (e.g. managers) receive an invitation for a pulse survey immediately before the training, which determines the expectations of the training. The questions can be answered via a smartphone. After the training, the participants and trainers answer questions about their satisfaction with the trainer, the training content and the course of the training. Additional ideas and wishes can be expressed via the evaluation. In order to determine the transfer success of what has been learned for everyday work, a third pulse survey is sent to all participants and clients three months after the training.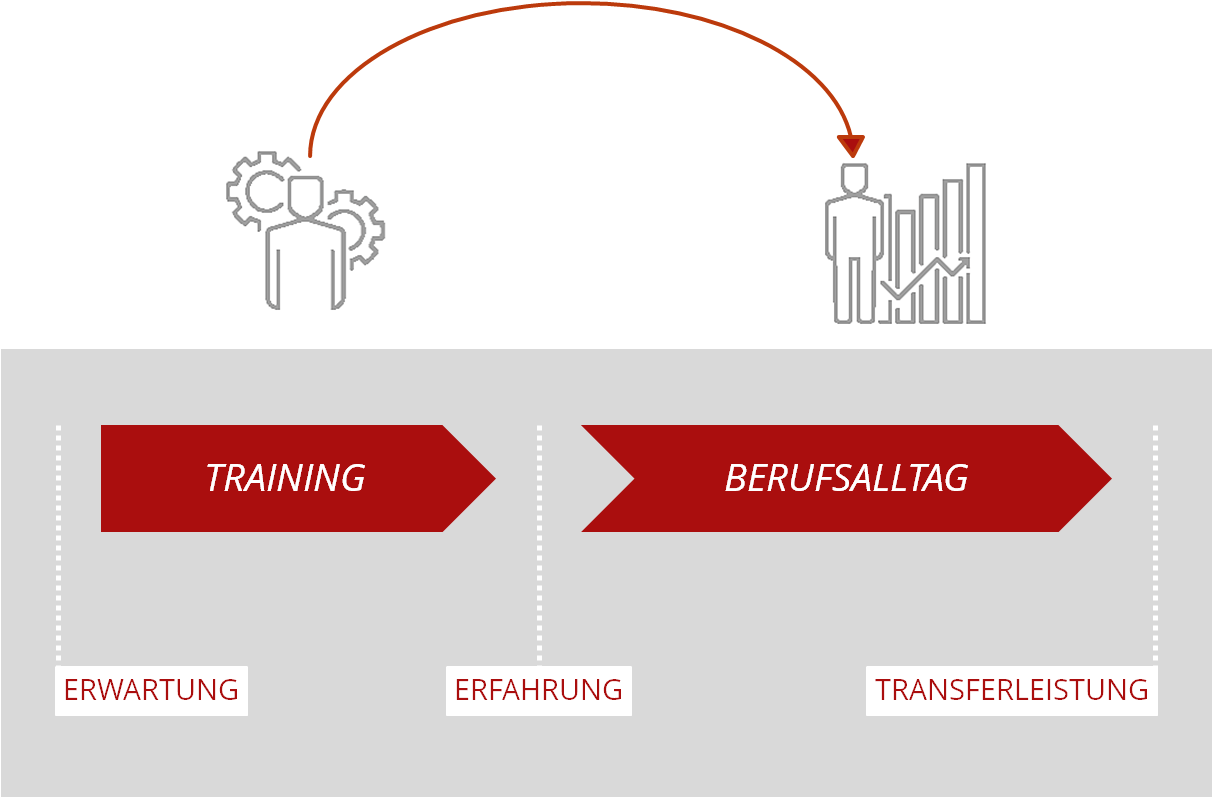 Funktionen im Überblick
Sicherheit
& Konfiguration
account_balance
DSGVO-Konformität
Sicheres und einfaches Einhalten der aktuell geltenden Datenschutzvorschriften
trending_up
Echtzeit-Analyse
Reports und KPI's stehen durch die stetige Aktualisierung der Daten stets zur Verfügung
important_devices
Mobilfähigkeit
Hohe Beteiligungsquoten aufgrund der Mobilfähigkeit, via PC, Tablet, Smartphone
cloud
Online Dokumentenverwaltung
Zertifikate und Bescheinigungen online, digital und zentral verwalten
lock
Zugriffsrechteregelung
Ein bedienerfreundliches Berechtigungssystem sorgt für Datenschutz und Anwenderfreundlichkeit
Controlling
library_books
Benchmarks
Interne und externe Vergleiche zu Ergebnissen ermitteln und dargestellen
playlist_add_check
Kampagnenpool
Themen sind schlüsselfertig, validiert und sofort einsatzbereit
sentiment_satisfied_alt
Employer Branding
Arbeitgeberattraktivität durch moderne und reibungslose Prozesse steigern
show_chart
Historie
Über die Zeit Entwicklungen, Trends und Erfolge visualisieren
border_color
Qualitative Ergebnisanalyse
Einfache Ergebnisanalyse über systematische Markierung und Clusterung von Begriffen
Automatisierung & Optimierung
grade
Gamification
Mit kurzen, mobilen Umfragen eine hohe Beteiligungsquote erzielen
wb_incandescent
Ideenmanagement
selbstständig Verbesserungsideen einreichen und die anderer Beschäftigter 'liken'
swap_calls
Mailings auf Knopfdruck
Individualisierte Mailvorlagen erstellen, verwalten und versenden
track_changes
Wirksamkeitsprüfung
Verschiedene Perspektiven und Erhebungszeitpunkte ermöglichen eine Wirksamkeitsprüfung
line_weight
Zufriedenheitsmessung
Zufriedenheit mit Training bei Führungskräften, Teilnehmenden und Trainern abfragen
Partizipation
access_alarm
Erinnerungsfunktion
Erinnerungen für Teilnehmer, das besuchte Training zu bewerten
sms_failed
Mehrsprachigkeit
Die Sprachauswahl ermöglicht ein reibungsloses Onboarding
build
Mitarbeiterpartizipation
Erfolge und Problemfelder bei Trainings durch Teilnehmer aufdecken
touch_app
One-Click Technologie
Die einfache Durchführung erhöht die Beteiligungsquote
accessibility_new
Self-Service
Trainer, HR, Führungskräfte und Teilnehmende verwalten ihre Termine und Inhalte selbstständig
DO WE KEEP OUR PROMISE?
What our customers say...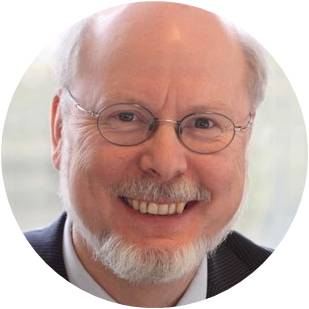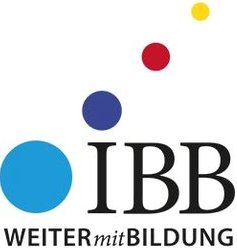 "Our organisation is growing rapidly and structured development is a prerequisite for our lasting business success. The HRpuls module supports us optimally, as the satisfaction of all participants can be queried and evaluated in real time. Participants can also complete the survey while on the move - a really popular feature in the age of smartphones."
Clemens Arnold-Hoffmann
Board member, IBB Institut für Berufliche Bildung AG