Workforce Management
Free up time for HR strategy, recruiting and personnel development
accessibility_new
Strong service for employees through self-service Functions
Employees are independently responsible for the timeliness and accuracy of their data
Depending on their authorization, one can view, request, edit or delete data (e.g. also tax offices)
Processes become lean
The mediator role of HR is disbanded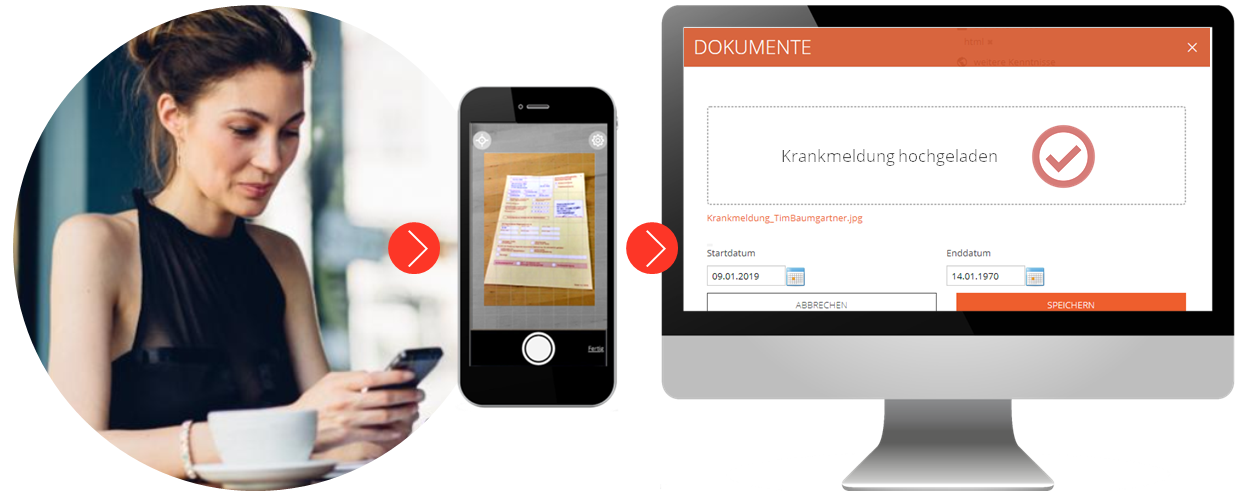 cloud
More transparency and individual responsibility for employees through self-service for HR topics
In addition to the digital storage of the classic data of a personnel file, all employee-related information can be integrated into the Workforce Management module.
Employee history, e.g. career development
Onboarding, e.g. missing documents
Reminder and task function
euro_symbol
Saving resources and more transparency through a digital personnel file
HR and employees are relieved by self-service functions. The speed of processes increases immensely through automation. A high degree of transparency and clarity for employee information and HR processes is achieved.
Key Performance Indicators
With smart calculations in the background, key data and statistics for HR analyses are available in real time.
Size, age, length of service of the workforce
Salary development
Fluctuation
Job-persons-fit
Career development
Feature Overview
accessibility_new
Self-Service
Recruiters, departments, HR and talents act and inform each other independently
cloud
Central data storage
Avoid redundant data, access to a system
euro_symbol
Real time analysis
Reports and KPI's are always available based on current data
rowing
Onboarding / Exit
Allow fast and structured entries and exits
grid_on
Organizational chart Export
Export real-time data and visualize the organizational structure
add_alarm
Attendances
Record working time taking contractual and legal regulations into account
beach_access
Absences
Managing vacation, training, illness, or parental leave
how_to_reg
Access Control
A clear authorization system ensures data protection and user-friendliness
question_answer
Diaolgues
Users can communicate & any activity can be tracked
access_alarm
Reminder function
Anniversaries, entries, departures, planned absences, birthdays, events etc.
announcement
Tasks
Task planning and reminder
assignment_returned
Preparatory payroll accounting
All wage-relevant data is made available to executing users