Easily find, retain and deploy talents!
HR managers in organizations
are supported by our software
by responding to current challenges
and continuously developing modules
to maximize their value.
Our inspiration
we draw from the questions to which there are still no answers.
Our talent
is always look closely. This enables us to understand the essence of challenges.
Our speciality
it is to always be honest and occasionally uncomfortable, unconventional and lateral-thinking.
Our drive
is that we want to do something better every day. Something more fitting - something more captivating - something more uncomplicated. For the HR suites of tomorrow.
OUR PROMISE
With the support of our suites we want to enable organizations to optimize themselves. Our suites are specifically designed for three target groups.
OUR TEAM
To exceed our customers' expectations on a daily basis, we bring together people with true passion and expertise in the field of HR, with different cultures and ways of thinking. Through constant exchange and mutual feedback, we work creatively and develop innovative ideas for our customers. We often involve our customers directly in the development process in order to test and improve new ideas in practice.
OUR IT GODS
develop made-to-measure software. Your requirements are solutions that are always somewhat more precise, somewhat simpler and somewhat more systematized than what we already know.
OUR PSYCHOLOGISTS
take care of content-related topics. With their expertise in methodology and their scientific theoretical knowledge of human experience and behaviour, they strive for maximum informative value and user-friendliness in our suites.
OUR CUSTOMER ATTENDANTS
are characterized by empathy, judgement and critical thinking. Its aim is to exceed customer expectations and strengthen long-term relationships.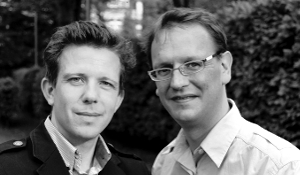 Oliver (CEO) and Henning (CTO) as founder of HRpuls embody the passion for HR and Software and jointly founded HRpuls in 2012.
OLIVER
is passionate about recruiting, retention and development of talent. In dialogue with managing directors and HR managers, he continuously develops HRpuls products according to the needs of customers. This results in tried-and-tested products that offer maximum benefits. Previously, as a management consultant, he supported companies worldwide in the areas of strategy, organizational development and mergers & acquisitions.
HENNING
is as "IT God" in charge of all technical topics at HRpuls. He makes every idea come true. Always questioning and supporting, he is a valued contact both internally and externally. Shortly after the turn of the millennium, he began developing software and websites for a wide range of customers. His areas of expertise include software engineering, web applications, IT security and databases.
You want a job in which you have a meaningful task with many development opportunities? Become part of our team!